Design Your Own, Custom Browbands from the Brilliance Gala.
Made with Genuine Swarovski Crystals.
"People will stare. Make it worth their while." - Harry Winston

The affordability, quality and simplicity of the Brilliance Browbands, have made this range one of the most popular on the market. Now, you can get this popular collection in a custom, design your own, bespoke range. This level of personalization, gives you exactly what you want in a piece that is created for you, by you. We are also happy to work with you on unique designs subject to a consultation (additional fees may apply for complex designs).


Simple and Easy Steps to Ordering Your Custom Brilliance Browband...
1.

Choose Your Pattern...
1-Single Row Pattern: Choose one Swarovski® Crystal color that is special/unique to you. A timeless design allowing you to get a browband in your favorite color.
1/1 Pattern: Choose two

Swarovski® Crystal

colors which will alternate every other stone. Simple, fun and flattering.
3/3 Pattern: Choose two

Swarovski® Crystal

colors. Each color will be evenly laid out in pattern blocks of three's.
3/3/3 Pattern: Choose three

Swarovski® Crystal

colors. Color #1 will be laid out first, then color #2, then color #3. This exact pattern will then repeat.
5/2 Pattern: Choose two

Swarovski® Crystal

colors. Color #1 is the dominant color and represented by 5 crystals. Crystal color #2 is the color represented by 2 stones.
2.

Choose Your Genuine Swarovski­® Crystal Colors...
Review the crystal color options in the photos above. If you don't see what you are looking for, get more color inspiration by viewing the Swarovski Color Catalog Here.

Choose your First Stone Color. (This is the dominant color if you want the 5/2 Pattern. If you want the 3/3/3 pattern, this will be the first color in the design).

Choose your Second Stone Color. (This is the least-dominant color if you want the 5/2 Pattern [this would be the "2"]. Or, if you want the 3/3/3 pattern, this will be the second/middle color in the design).

Choose your Third Stone Color. (If you want the 3/3/3 pattern, this will be the third/last color in the design).
3.

Choose Your Leather Color, Custom Browband Shape, and Browband Size...
Select Exquisite Black, Brown or Whiskey Leather.

Choose Your Browband Shape: Straight, Wave, Skinny-Wave or V-Shape.

Finally, select your size browband. Beasties™ Browbands are European sized and so they run a bit larger than American brands. Before ordering, please be sure to meausure your current browband and comparing it to our size chart below for proper sizing.
Pony (or possible Cob) = 15"

Cob/Horse = 15.75"

Full/Warmblodd = 17"

X-Full/Oversized = 17.75"
4.

Availability...
Ship times can vary depending on Swarovski® Crystal Availability. Our goal is to ship all custom browbands within 2 - 7 days of ordering. However, this lead time can be longer if the crystals are not avail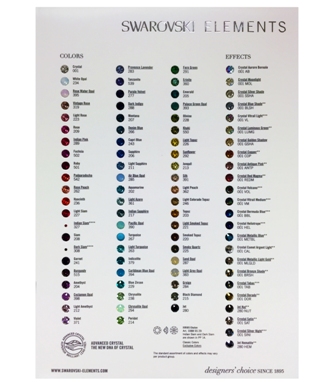 able.
Fabulous Brilliance Custom Browband Features...

Each Brilliance Custom Browband is made with genuine CRYSTALLIZEDŠ­­ Swarovski® Crystals. Beasties™ Brilliance Bridles and Browbands are made by hand to exacting standards.


Each Brilliance browband is made by hand in the USA.

Warranty included! Beasties™ Horse Tack Co. stands behind their products. Rest assured, your custom bespoke browband is under full warranty for one full year (normal terms and conditions apply). Should you need a warranty repair, Beasties™ will opt to repair or replace your browband.

Exquisite, soft and supple top quality leather.

Leather loops are 1.25" wide, allowing them to easily fit on 95% of all bridles on the market. Yes, the loops on the Beasties™ browbands will fit onto a double/weymouth bridle.

All Beasties™ Brilliance browbands come elegantly packaged in a beautiful dust bag. A cleaning brush is also included to keep your sparkles shining. Together, this presentation is perfect for the long-term care and storage of your piece. Additionally, this makes for the perfect equestrian gift.

Looking for something different? Bon-Vivant Equestrian has you covered. Check out our amazing assortment of designer Browbands. Additionally, we have an exquisite selection of unique Equine Tack and Horse Accessories.
Save
I love it. These colors are exactly what I was expecting and you didn't disappoint. It is very well made. I expect this will last me a long time.

always so happy. beautiful!

I have purchased quite a few of these beautiful browbands and am always so happy with them. They are beautiful and I, and the people I have purchased them for get so many compliments. Beautiful product and I am always recommending you. Thank you again! I got the ruby crystals for my sister's beautiful fresian for Christmas.

"I can't even"

I can't even look at my royal pony wearing his new "crown." He looks so stinking adorable. This is my favorite piece of equipment!

Hands down, this is a beautiful piece. I couldn't be happier with it. Thank you.

I'm impressed. This is a beautiful custom browband.

I am very pleased with the appearance, quality and colors of the crystals in this custom browband. The color choices were overwhelming, but in the end, the browband arrived just like I imagined it to be. The leather is very soft and and the cob/horse size fits my horse's refined head perfectly. I've received lots of compliments on how attractive it looks, both at the barn and in competition.

Thanks - hard to find great pony products.

Thanks - hard to find great pony products.

I'm an addict! Getting ready to design my 4th Browband

Also, the new website is great.

I just sent you a photo. It came out great.

Thank you so very much. It came out better than I imagined. The crystals are much prettier in person. I just emailed you a picture of my horse wearing it. I wish I could post it here because it looks so good! Thank you and I will definately be ordering again.

I absolutely love your products!!

I absolutely love your products!! I have been searching for a new browband for a while. Your products are def high quality at the right price! I loved being able to customized my browband. Only thing I wish you had for an option were alternating single colored pattern. Such as red black red black red black ect. I will def shop at your company again and have already recommended you to many people!
Beasties Brilliance Browbands are backed by a: 1). 30 Day Satisfaction Guarantee. 2). 1 Year Repair/Replacement Warranty (normal terms apply*). See our warranty page for details: https://store.bonvivantequine.com/beasties-browbands-warranty-policy-procedure-and-guidelines/ *Normal terms, conditions and care apply. Warranty does not cover products subject to conditions outside of what "normal care" is considered (ie: the browband was involved in a riding accident or the product was chewed or stepped on by your horse).