Stealth Splint Boots with Replaceable Velcro!

Tired Of Losing Boots or Having to Buy New Ones Because of Faulty Velcro?
When the velcro wears out... Buy new straps, not new splint boots!
Stealth Splint Boots Features:
The Stealth Splint features a new nylon D, smooth straps and wrap, yet still gives superior side impact protection.
Available in black or white, med or large.
You can change strap colors with the replacement velcro® brand closure straps and even have them customized.
Quality Construction at Affordable Prices.
Sold in Pairs. Each Set of Splint Boots Comes with 4 Heavy Duty Velcro Strips in Matchin White or Black.

Contructed of Ballistic Material with Superior Strength and Quality Seam Stitching.
Interchangeable Straps Make Changing Your Look Simple and Affordable! No logos/labels on the Velcro.

No-turn Knob Built In. Keeps Boots from Turning so it Stays in Place for Correct Protection. Note: the no-turn knob can be simply cut out if unwanted.

Inner Lining Wicks Moisture.
RES Equine Stealth Splint Boots Size Information:
Currently available in 2 Sizes: Medium 8.5" Long (Small Horse) and Large = 9.5" Long (Horse Size).
RES Splint Boots Care:
Simply wash with the barn hose and hang to dry!

Velcro Care: Remove hair and dirt with a stiff brush.
Bon-Vivant Equestrian is an authorized USA Distributor for RES Equine Products. Check out our amazing assortment of Equine Bell Boots. Want to learn more about RES Equine Products? Watch this short video of Brett Mills (inventor) explaining this award-winning system: RES Boots Video.
Additional Velcro® Straps and Colors Can be Purchased Here: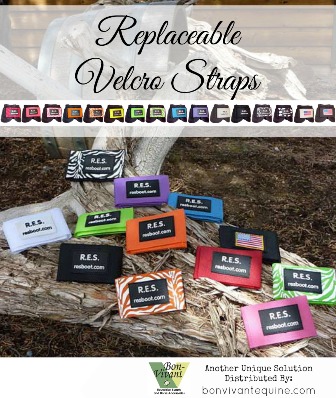 Great value but I must warn everyone that white is work. :) Why does white have to look so darn good because it is a nightmare to keep clean.

One of the best leg boots I have found.

One of the best leg boots I have found. They are easy to put on... light weight and protect the legs with out giving them too much extra support.

Better value than Professional Choice

Great product, great price. I'm very satisfied with these boots. These are very comparable to Prof. Choice. I think these stealth boots are a better value though.