Fetlock / Ankle Boots with Replaceable Velcro!

When the Velcro® wears out... Buy new straps, not new bell boots!
Fetlock Boot Features:
The anatomic design gives more freedom of movement to the fetlock, while providing maximum comfort and support.
These fetlock boots are excellent for everyday use.
Constructed of a tough, polyurethane shell offering exceptional impact protection against strike and brushing injuries, while allowing unrestricted movement of the fetlock joints.
Sold in Pairs. Each Set Comes with 2 Heavy Duty Velcro Strips in Black.

Interchangeable Velcro Straps Make Changing Your Look Simple and Affordable!
RES Fetlock Boot / Ankle Boot Size Information:
Currently available in 2 Sizes: Medium (Horse), Large (Warmblood).
RES Boot Care:
Simply wash with the barn hose and hang to dry!

Velcro Care: Remove hair and dirt with a stiff brush.
Additional Velcro® Straps and Colors Can be Purchased Here: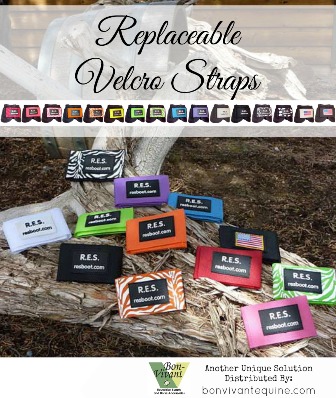 Great value and good for every day.

Great for every day schooling and if you need protection for a smaller price tag. I like that you can change the color out with the different velcro colors. I will be back to buy again.