Equine Bell Boots with Replaceable Velcro® Brand Closure Straps!

Allowing Tired Of Losing Bell Boots or Having to Buy New Ones Because of Dirty or Faulty Velcro®?
When the Velcro® straps wear out... Buy new straps, not new bell boots!
Equine Bell Boots Features:
Quality construction at affordable prices.
Sold in pairs. Each set of bell boots comes with 2 heavy-duty, black replaceable Velcro® brand closure straps.

Constructed of ballistic material with superior strength and quality seam stitching.
Interchangeable Velcro® Brand straps make changing your look simple and affordable!
Built-in no-turn knob. Keeps boots from turning so it stays in place for correct protection. The RES no-turn knob is unique because it is triangle-shaped which closely resembles the back area of the horse's hoof. This creates an ideal fit! Note: the no-turn knob can be simply cut out if unwanted.

Inner lining of the bell boot wicks moisture.
RES Equine Bell Boot Size Information:
Currently available in 5 Sizes: Small, Medium, Large, X-Large and XX-Large.

RES Boot sizes run a bit small as compared to most PVC bell boot brands so please order a size up if you are unsure).
RES Boot Care:
Simply wash with the barn hose and hang to dry!

Velcro Care: Remove hair and dirt with a stiff brush.
Bon-Vivant Equestrian is an authorized USA Distributor for RES Equine Products. Check out our amazing assortment of Equine Bell Boots. Want to learn more about RES Equine Products? Watch this short video of Brett Mills (inventor) explaining this award-winning system: RES Boots Video.
Additional Velcro® Straps and Colors Can be Purchased Here: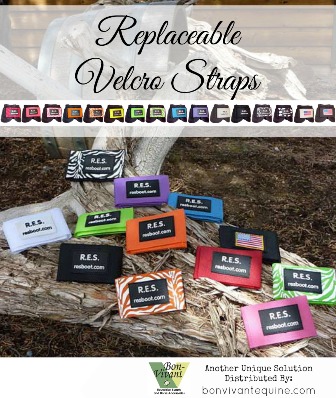 These boots last forever and are perfect for my 4 year old warmblood who has a lot of over-reach. She wears them all day in the pasture.


Love these bell boots. With the "loop" fastener the boots stay put!

Quick shipping. Thanks.

Where else can you find zebra pink bell boots? Love These!

Where else can you find zebra pink bell boots? Love These!

These are the only equine overreach bell boots that my horse can keep on. They are on 24/7 and it takes at least six months before the velcro straps wear out. Definitely recommend them.

We've never purchased this brand before. I will say that I'm very impressed. The Velro is rugged, wide and strong. I'm not sure that I'll need to replace the straps as these look like they will hold up. Five stars for now.