Zebra Bell Boots with Replaceable Velcro!

Allowing Tired Of Losing Bell Boots or Having to Buy New Ones Because of Faulty Velcro?
When the velcro wears out... Buy new straps, not new bell boots!
Zebra Bell Boots Features:
Quality Construction at Affordable Prices.
Sold in Pairs.

Each Set of Bell Boots Comes with 2 Heavy Duty Velcro Straps in Black and 2 Straps in Zebra Print

Contructed of Ballistic Material with Superior Strength and Quality Seam Stitching.
Interchangeable Straps Make Changing Your Look Simple and Affordable!
No-turn Knob Built In. Keeps Boots from Turning so it Stays in Place for Correct Protection. Note: the no-turn knob can be simply cut out if unwanted.

Inner Lining Wicks Moisture.
RES Equine Bell Boot Size Information:
Currently available in 5 Sizes: Small, Medium, Large, X-Large and XX-Large.

RES Boot sizes run a bit small as compared to most PVC bell boot brands so please order a size up if you are unsure).
RES Boot Care:
Simply wash with the barn hose and hang to dry!

Velcro Care: Remove hair and dirt with a stiff brush.
Additional Velcro® Straps and Colors Can be Purchased Here: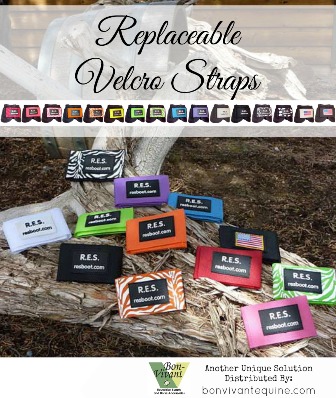 These bell boots were of much higher quality than we expected! Great product.

So much fun. I love these zebra boots! Not too much wildness, just a touch.

Very happy with this brand of bell boots. Started using last year and this is the second pair of bell boots I've had to purchase in about a year. Her first pair still has some life left in them but will need replacing soon.